Our Favorite Tools and Plugins for WordPress Websites
We've done a lot of searching online for the best resources for building our blog. It can be difficult to sort through all the paid promotions to find the best products. Here's a list of some of the best tools and plugins we've found so far for WordPress websites. We'll update this whenever we find better solutions.
This site uses affiliate links, so we can earn small commissions when you click. Thanks for supporting us and spreading the bliss!
Best Domain Hosting for Any Website
Namecheap offers the best value for domain registration and website hosting. We got our .com domain with hosting, and spent $21 for the first year, or $1.76 per month. We used coupon code COUPONFCNC to get 20% off. At their lowest price level, you can host up to 3 domains, with free privacy protection.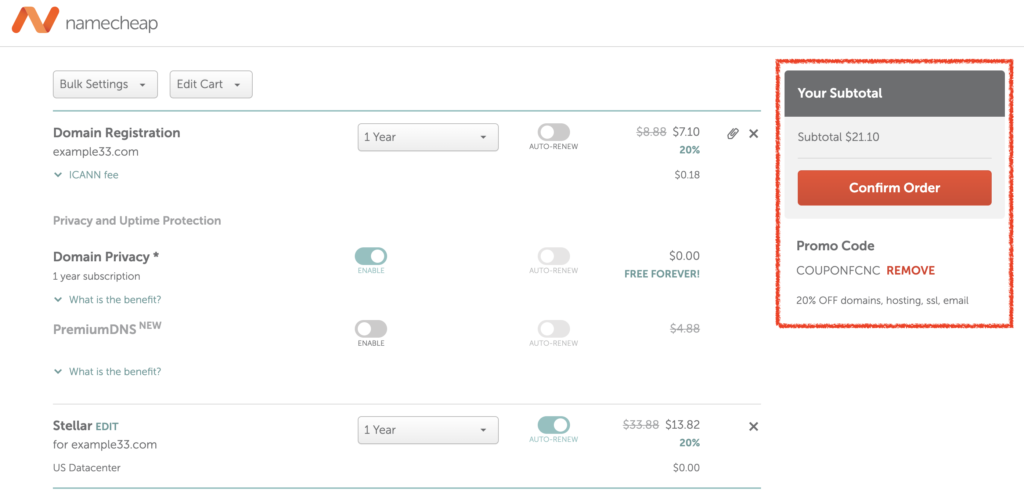 Make sure you read the fine print when you're shopping for hosting providers. Hosting companies offer steep discounts to get you in the door. For example, Bluehost's $3.95 per month sticker price omits some hidden costs such as domain renewal. Here's how Namecheap's one year trial period compares to Bluehost's three year trial period.
| | | |
| --- | --- | --- |
| | Namecheap Stellar | Bluehost Basic |
| Hosting | $ 1.58 | $ 3.95 |
| Domain | $ 0.76 | $ 1.00 (three year average) |
| SSL | Free | Free |
| Privacy Protection | Free | $ 0.99 |
| Total per Month | $ 2.34 | $ 5.94 |
Namecheap vs. Bluehost shared hosting trial period
Here's what Namecheap and Bluehost charge once your trial period is over.
| | | |
| --- | --- | --- |
| | Namecheap Stellar | Bluehost Basic |
| Hosting | $ 2.82 | $ 9.99 |
| Domain | $ 1.10 | $ 1.50 |
| SSL | $ 0.66 | Free |
| Privacy Protection | Free | $ 0.99 |
| Total per Month | $ 4.58 | $ 12.48 |
Namecheap vs. Bluehost shared hosting renewal prices
It's not even close. You clearly get more for your money with Namecheap. Don't let a sweet trial period tempt you into a bad long-term deal. If you need more information, here's another article comparing Namecheap's performance to Bluehost.
Best Free Logo Maker
https://www.namecheap.com/logo-maker/
One of the first tasks in building our website was creating our logo. We spent a long time messing around in Canva, but then we found Namecheap's logo maker. It's free and easy for beginners and has a lot of nice customization features. At the end you'll download png images as well as svg vector files for your logo. You can also save your designs and access them later on Namecheap.
Best Free WordPress Themes
https://blossomthemes.com/theme/free-wordpress-themes/
The free Blossom themes are stylish and minimal. We use Blossom Travel on our blog.
Best Free Search Bar Plugin for WordPress
Some search bars we tried were confusing and didn't look the way we wanted. Ivory Search is just a simple search bar that's easy to set up and looks great. There's just enough options to customize the look and feel without being overwhelming. You can enable AJAX in the plugin settings, and edit the appearance through your WordPress -> Customize -> Ivory Search.
AddToAny is the simplest and best working wordpress plugin to add social sharing buttons to your WordPress pages and posts. It does exactly what we want and it was super easy to set up unlike some of the others we tried. You can add floating buttons or other custom locations. Most importantly, the buttons share the current page when clicked.
Best Free Disclaimer for WordPress
https://www.disclaimergenerator.net/
Easily generate a blog disclaimer to protect everyone involved and avoid getting sued. It's also a great learning resource.
How to create link in footer: Put the following HTML code in your WordPress -> Customize -> Footer Settings and change the href URL to your own disclaimer page.
<a href='

https://blisspointers.com/disclaimer

' target='_blank'>Disclaimer</a>
Best Free Privacy Policy for WordPress
https://www.privacypolicygenerator.info/
Generate a privacy policy easily.
Free Analytics
Collect and analyze data about user activity on your website. There are many tutorials online, but Google is constantly changing its services, so we've found the best beginner resource is the google support site.
Free Search Console
https://search.google.com/search-console/about
See how your website is performing in Google searches.
Best Free WordPress Backup Plugin
The free version of UpdraftPlus lets you automatically backup your WordPress site to Google drive, and it's easy to set up.
Conclusion
Thank you for reading! We hope this helps beginners save some time and money when building their websites. Let us know if you think there's something missing from this list.