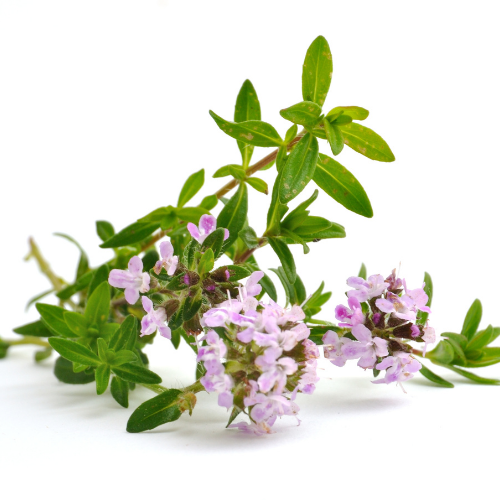 We love it for..
Colds, Headache, Insomnia
Thymes are relatives of the oregano genus Origanum. They have culinary and medicinal uses, and the species most commonly cultivated and used for culinary purposes is Thymus vulgaris.
Why We Love It
■ Infections The antiseptic and tonic properties of thyme make it a useful tonic for the immune system in chronic, especially fungal, infections, as well as an effective remedy for throat and chest infections.
■ Asthma & hay fever Thyme is prescribed with other herbs for asthma, especially in children. Its invigorating qualities balance the sedative effect of many herbs used for asthma. Thyme is also helpful
in hay fever.
■ Worms Thyme is often used to treat worms in children's digestive tract and has been found to destroy certain intestinal hookworms and roundworms. It also aids in the digestion of rich or fatty foods.
■ External uses Applied to the skin, thyme relieves bites and stings, and is used for sciatica and rheumatic pains. It helps ringworm, athlete's foot, thrush, and other fungal infections, as well as scabies and lice. Thyme infusion and diluted oil are also massaged into the scalp to encourage hair growth and reverse hair loss.
How We Use It
Our Favorite Brands
Healing Recipe
---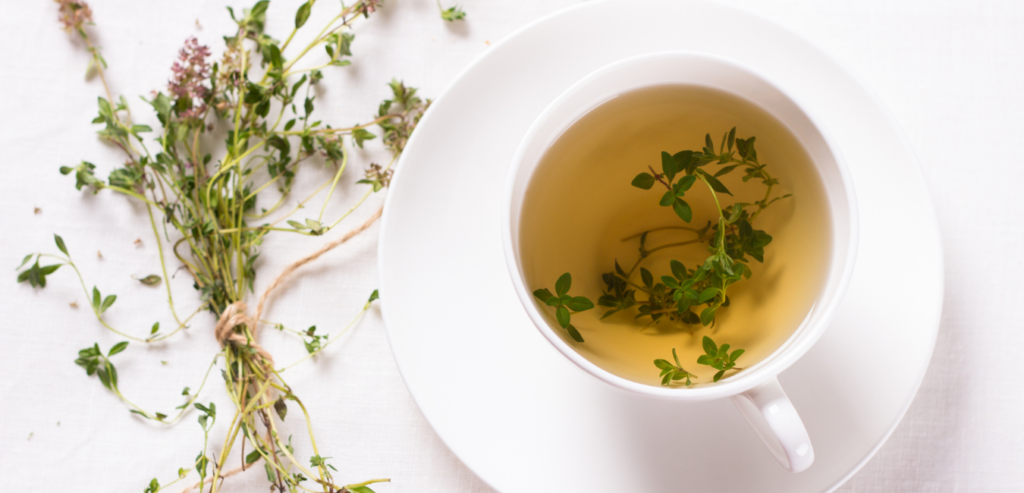 Thyme Tea
Directions: Steep a handful of fresh sprigs in hot water for at least 10 minutes or it can be soaked overnight in a pitcher of water and sipped throughout the day. Add honey or lemon, if desired.
---
Research Resources
| | |
| --- | --- |
| Scientific Name | Thymus vulgaris (Lamiaceae) |
| Description | An aromatic shrub growing to 16 in (40 cm), with woody stems, small leaves, and pink flowers. |
| Constituents | Volatile oil (mostly thymol and carvacrol), Flavonoids, Phenolic acids |
| Habitat & Cultivation | Thyme is a cultivated variety of the wild thyme (T. serpyllum, p. 276) of southern Europe and is now grown worldwide. It is raised from seed or by root division in spring and prefers light, chalky soils. The aerial parts are harvested in summer. |
| Parts Used | Aerial parts, harvested in summer, contain antiseptic volatile oil. |
| Cautions | Do not use the essential oil externally during pregnancy. |
Source: Encyclopedia of Herbal Medicine