You don't have to be American to benefit from the strongest economy in the world. Filipinos can build wealth by investing in American stocks, but what's the best way to do it? Most Filipinos turn to traditional banks such as Banco De Oro or BPI, who charge unnecessary management fees and set large initial deposit requirements. There's got to be a better way! Luckily, eToro provides an easy way to take part in the US stock market without management fees, large deposit requirements, or trading experience. Keep reading to learn how you can buy US stocks from the Philippines using eToro. I'll also tell you my favorite stock for beginners to start generating passive income.
This site uses affiliate links, so we can earn small commissions when you click. Thanks for supporting us and spreading the bliss!
Read our disclaimer here.
Why You Need US Stocks
Great performance track record – Averaging around 10% annual growth
Investing in global corporations helps you diversify your investments
Wide selection of stocks and index funds to choose from
Numerous buyers and sellers
Problems With Traditional Banks
Filipino banks charge around 1% per year for management fees when you invest in US stocks. 1% might not seem like much, but it magnifies over time because of compound interest. If your investments earn 10%, the bank takes one tenth of your investment income every year! Therefore, avoiding management fees is extremely important. Here's a comparison of eToro, BDO, and BPI.
| | | | |
| --- | --- | --- | --- |
| | eToro | BDO US Equity Feeder Fund | BPI Invest U.S. Equity Index Feeder Fund |
| Management Fee | None | 1% annually | 0.75% annually |
| Minimum Initial Deposit | $ 200 USD | $ 500 USD | $ 1000 USD |
| Available US Stocks | Any | Russell 3000 index only | S&P 500 index only |
What is eToro?
eToro is a zero commission online stock broker. That means you can buy real US stocks at the current market price without paying any transaction fees.
Can Filipinos Use eToro to Buy US Stocks?
Yes. You can open an account with eToro, and buy real US stocks from the Philippines.
How to Open an eToro Account
Here are four main steps in opening an eToro account.
Go to eToro's website and click "Sign Up" or "Create Account"
Enter your contact information (or sign in with Google or Facebook)
Provide proof of identity and residence
Fill out questionnaire for your customer profile
Then you're all set to fund your account and buy US stocks from the Philippines!
How to Fund Your eToro Account
You'll have to fund your account before you can start buying stocks. Here are some of the payment methods eToro accepts.
Local Filipino Bank Transfer
Credit/Debit Card
PayPal
Skrill
International Bank Transfer
Neteller
eToro Minimum Deposit Requirements for Philippines
The minimum initial deposit is $200 USD. Additional deposits can be as small as $50.
All balances and transactions are held in USD, so they will charge conversion fees if you send Philippine Pesos. If you need to convert currency, Wise offers some of the best rates.
Best Stocks to Buy on eToro
Investing can be intimidating for beginners, so seasoned investors like Warren Buffett often recommend buying an index fund rather than picking stocks yourself. An index fund, or ETF, is just a bundle of several companies. It's the easiest way to buy a variety of quality stocks at once without having to spend any time researching stocks. My favorite is Vanguard's S&P 500 index fund (symbol is VOO). You can find it easily by typing the three letters "VOO" in the eToro search bar.
Which Companies are in the S&P 500?
Here are a few of the largest companies in the S&P 500 index:
Apple
Microsoft
Amazon
Facebook
Google
Tesla
JP Morgan Chase
Johnson & Johnson
Click here for a list of all 500 companies in the S&P 500.
How to Buy the S&P 500 Index Using eToro
Here's how to buy an S&P 500 index fund in a five easy steps.
Type "VOO" into the search bar in eToro.
Click "Trade".
Adjust the amount you want to buy. (+-)
Click "Set Order".
Wait for the transaction to complete.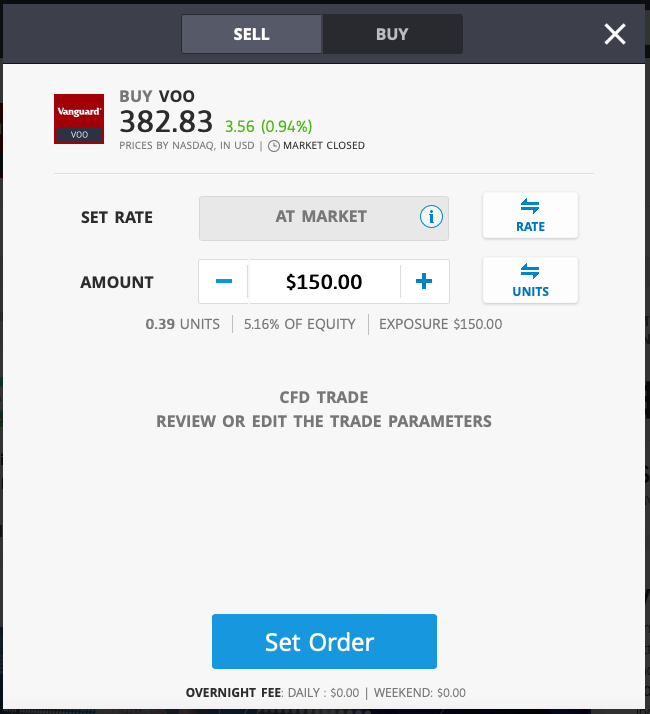 Congratulations! You're a business owner. Now you own a portion of America's 500 largest corporations.
US Stock Market Hours
The U.S. stock market is open from 9:30 am to 4:00 pm Eastern time. When it's closed, you can set an order to be processed the next business day.
Saving for Retirement and Passive Income
Investing regularly will help you build wealth fast. Set a reminder to fund your eToro account with your extra income each month. Then repeat the steps above to put your money to work and build your passive income. You know how big corporations can make massive profits? Now some of that can be yours.
You can earn passive income from the dividend payments and price growth of stocks you own over a long time period. The best retirement strategy is to buy, hold, and ride the market higher over the course of your career. It's best to avoid impulsive decisions like buying and selling stock quickly. You should give serious thought to any big financial decisions. Ask a financial advisor to guide you on your long term strategy before making big transactions.
Is eToro Safe for the Philippines?
eToro is well established and regulated. Like any stock broker, eToro can't protect you from investment losses. There's risk in every investment. Without it, there's no opportunity for growth. Growth is the compensation you receive for taking a risk with your money, but make sure you don't risk money you can't afford to lose.
What are CFDs?
Investing on eToro can be as risky as you want it to be. Whenever you buy stock, there's a button called "leverage" that you should avoid touching. For example, "X2 leverage" doubles the riskiness of your investment by switching to a CFD or "Contract for Difference". It's easy to avoid this. Just don't touch the leverage button! Leave it at the default "X1", and you'll just buy the simple underlying stock without leverage or CFDs.
Warning!
CFDs are complex instruments and come with a high risk of losing money rapidly due to leverage. 75% of retail investor accounts lose money when trading CFDs with this provider. You should consider whether you understand how CFDs work and whether you can afford to take the high risk of losing your money.
Conclusion
Owning US stocks is one of the easiest ways to build wealth and earn passive income. eToro lets you bypass the restrictive banking industry, and buy US stocks from the Philippines without commissions or management fees. Now you have the power to buy shares of most of the world's largest businesses. Just save up PHP 10,000, open an eToro account, and start investing!