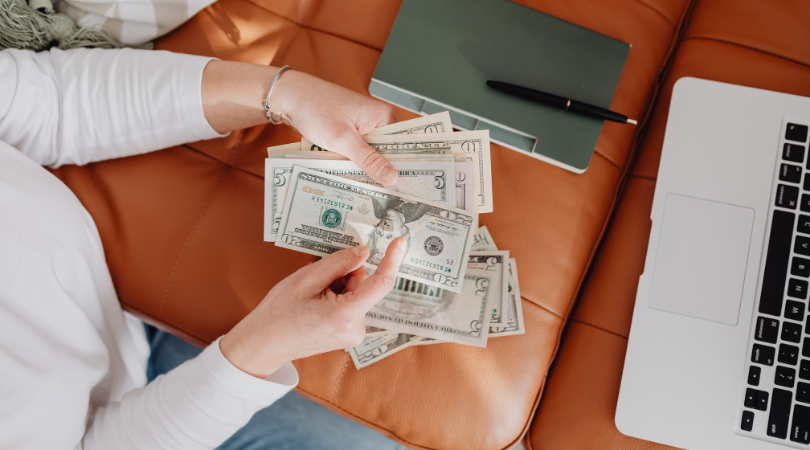 Earn USD from Home
Imagine a job where you can earn USD from anywhere, including your own couch! These days it's not just a luxury for certain lucky people. It's a necessity for the safety and security of your family. Do you feel like it's out of your reach? Whatever your personal reason is that led you to find other ways to earning money, know that you are not alone! This guide is created to support you.
It is heartbreaking to hear news of laid-off employees in the Philippines when a lot of employers are looking for skilled workers online. But there's great news! Everything is made available to you. You just have to dig a bit further. I am in no way a master job employment professional but let me just share with you what worked for me and I hope it can help you too.
This is one step forward to your financial bliss and you already took it! To congratulate you, let me go straight to the point and give you the best ways to help you to earn USD (or other currencies) in the comforts of your home or on the road.
---
Blisspointers Quick Link
As a professional digital nomad in the Philippines, do you experience any of the following?

– Always pay your local bank's high conversion rate
– Unable to receive your paycheck directly in USD or other currency
– Want to avoid Paypal or the Philippines' Local Bank in USD (With hefty minimum cash in!)

Then head over to the end of the article where I tell my not-so-little secret and how to set it up with Upwork Payments. It's way better than Paypal or any wire transfers!
---
But if you are a beginner finding answers, I hope you won't get overwhelmed and intimated with earning USD as I did before. If there's only one lesson I hope you would be able to digest in this article that is to never stop finding what works for you. Just do it and start small.
This site uses affiliate links, so we can earn small commissions when you click. Thanks for supporting us and spreading the bliss! Read our disclaimer here.
The Benefits of Working Remotely
Safe from covid-19 or any infectious disease. That is if you decided to work from home and disregard the travel bug. At least, no one can force you to go to unsafe out-of-office business calls anymore.
You can now travel whenever or wherever you want without filing for vacation leaves.
The freedom to be your own boss working on your own terms and being responsible for your own actions.
You have the power to make the most of your time. Say goodbye to time-consuming meetings!
You don't have to work from 9-5. You can manage your time and have power naps! Yaay! Weekdays become fun and exciting.
A world full of opportunities and growth awaits you. Meeting new people, learning a new skill, discovering your self and building something for your own benefit.
Getting Started is the Hardest Part
Let's face the elephant in the room: is it really possible to earn in USD even when I am in the Philippines? And the answer is a BIG FAT YES! But it takes a lot of discipline and hard work. I was fortunate enough to find a mentor that helped me obtain my first freelancing gig. But that didn't cause me to sit back and relax. This work gave me the confidence of working independently, creating my own brand around my skillset, and challenging myself to find more clients. Freelancing has kept me afloat even though the pandemic almost killed the tourism industry I work in. That's the amazing thing about working remotely. You have the autonomy to work while traveling anywhere you want, with peace of mind knowing you can support your family even in the midst of a pandemic.
The Road To Earning Your First Dollars
There are so many ways to earn dollars in the Philippines, but let's sum it up with these two income streams:
1. Passive Income
Passive income requires little continuous effort to earn and maintain. It includes rental income and any business activities where the earner does not directly participate. Learning stock investing for beginners can help you grow and manage the wealth that you are about to build. All of my financial decisions prioritize increasing my passive income.
2. Active Income
Active income refers to any income received from performing a service. The usual 9-5 job employment, wages, tips, salaries, freelancing, commissions, and income from businesses where you have to spend your energy in return for payment are some examples of active income. The famous "YouTubing", affiliate marketing, and blog monetization can also be considered active income. It may become passive income once it starts continuously monetizing long after you created it. Constant content creation is required to generate the flow of money in this kind of work and content creation is not for everyone. Luckily, active income can also mean selling your products or services online.
The two famous ways to earn online:
Online Business

This involves offering products or services to local and international customers. Online entrepreneurship takes a lot of creativity and strategy to position and gains revenue in the long term.

Online Employment

This is when you enter a contract with a foreign employer to render your services remotely. Usually, there is the time duration, specific responsibilities, and key performance indicators. Note that online employees such as freelancers have the opportunity to grow their clientele and start an online business like online agency.
You can earn USD in all of these sources but in this article, we will be discussing more of the active income stream with the focus on selling your professional skill set as a service online. So you can work with the freedom to be responsible with your own time and prepare yourself to save for your retirement. Remember the currency of the new rich is time and mobility. Thanks to the 4-hour work week!

Freelancing in the Philippines
Freelancing is a trillion-dollar industry according to CNBC. Even in the midst of a pandemic! It is not a new thing in the Philippines either. It's no secret at all! As of 2020, at least 2% of the Philippines population are freelancers. As a matter of fact, the government is aware of the most notable freelancing platforms and they might be imposing a withholding tax on some of them soon! It would be breaking news once it happens but we all have to be responsible for our own taxes anyways.
Clearly, now is the best time to join this bandwagon. The pandemic forced people to work at home giving them the freedom to do sideline jobs. Ask yourself, how many hours do you spend binge-watching Netflix or browsing social media? So why not make the most of this time by selling your skills, brand yourself, and start earning dollars!
How to Get Started as an Online Freelancer
For starters here's a quick personal roadmap for you:
List skillsets that you can offer

copywriting, marketing, graphics creation, social media posting, video making, researcher, data encoding are few samples. Do you have a knack in finding the cheapest airline deals? Then you can be a travel planner! What are you best known for? What do your friends ask you for help the most? You name it!

If you can do it online, you can earn dollars from it.

Create your own personal brand

this goes beyond your resume. One thing I love about this generation is that we can freely express ourselves! How do you want your clients to remember you? Who do you want to work for and what advocacies would you like to support? When you answer this and brand yourself, clients would be able to resonate with you as someone they would entrust their business with.

Study and Level up your skill

there's a free education out there! Be honest with the skills you don't have versus the qualifications needed by employers. Fill in the gap by mastering your skills.

Write an action plan

what's your availability schedule, what are your work limitations, and how do you wish to grow your freelancing career. List three small action items that can get your momentum rolling this week.

Find your niche

there is already a big pool of freelancers and the competition is very high! But that doesn't mean that you shouldn't start somewhere. Know your competition. Be clear on the services you offer. Identify your skills that could fit a specific set of clients. Understand their needs, what skills they are requiring, and in which platforms can you find them.

Find your role model

chances are someone is already doing a great job in offering the skill you are planning to sell, but you can study and follow in their footsteps! Learn from their strategies, follow them on social media, listen to their podcast, respect their originality, and start finding your unique selling proposition.

Enjoy the present

Don't rush to quit your 9-5 job if you have. Instead, utilize this time to gather more information, enroll on free online courses, socialize with your best officemates and enjoy the things you'll have to give up when you are already working remotely. Spoiler Alert: Say goodbye to all-expense-paid work trips and after-work night outs. But now you can say hello to having it whenever and wherever you want!
💡Strategize your self-promotion as a freelancer and think of it as your own business!

I cannot stress this enough, if you wanna excel on something you have to treat it like it's a VERY IMPORTANT MISSION. A salesperson needs to have a minimum number of sales calls a day in order for them to have higher chances of scoring a good deal. It's the same for a freelancer, sending just one application to a client every month wouldn't result in a new client. List three goals you wish to achieve for the next few months, create a calendar, follow a timeline, and give yourself a due date. If you're serious about earning a 6-figure monthly income from your remote work, then treat it like your billion-dollar business! Mission Possible.
Being a freelancer is more than getting a sideline job. A freelancer is an individual that packages themselves as their own brand. The best freelancers are passionate about growing their brand and delighting their clients. It takes time, effort, trial-and-error but it is also a rewarding process of knowing yourself, being resilient, and enjoying the learning curve.

Best Freelancing Websites
When you are ready to promote your skills and you've done an extensive self-reflection, it's now time to find your first clients. Freelance websites are platforms where the employers list a job they need and select the best or cheapest freelancers who apply.
Here are top freelance websites to find an employer online:
Upwork
Fiverr
51 Talk
Toptal
Freelancer
You can deep dive into each of the platforms here. You can also see this list of the most well-known websites to work from home in the Philippines online.
Personally, I work with Upwork just because it's the platform I am already familiar with. Upwork is a great freelance platform for almost all skill sets. It's easy to find work, submit proposals, and its user-friendly. They offer webinars to educate new freelancers about local topics such as "Tax for Freelancers in the Philippines". They also have a huge Filipino freelancer community where you can raise your questions and network with fellow freelancers. Plus, their built-in invoicing, and non-payment protection is an added benefit. Once you establish your Upwork profile, clients can even send you invitations if they would like you to work for them! So make sure to polish your Upwork profile.
💡Note that Upwork screens all applicants before you can start applying for work. This could take few days to weeks. So it is best to start creating your account now. Other applications were rejected because of its large pool of the same freelancers offering the same service. But fret not! A useful tip for your application to be accepted is to use a very specific position title. Instead of using generic titles such as "Data Encoder", you can increase your chances to be accepted by adding a niche industry to your title. ie: "Data Encoder for International Pharmaceutical Company".

Upwork Payment Methods
Once you get your first online gig, you will surely be excited to receive your payouts! Payments in Upwork are always processed in USD. So you'll have to decide whether to:
Leave it in USD

Convert to PHP
Let's compare these two options so you can decide where to put your earnings.
Here are some of the benefits of keeping USD:
High purchasing power

No conversion fees – you lose around 5% if you transfer to a local PHP bank

Worldwide acceptance – great when traveling!

Truth be told, it's so satisfying to be paid in USD for your hard work.
Whatever you decide, you'll still have to withdraw funds in PHP for your living expenses. You can conveniently withdraw it from your Upwork profile using your local bank account, but Upwork's currency exchange rates will eat into your take-home pay. Apparently, the currency exchange rate is out of Upwork's control because when a bank converts a transaction, they will mark up the interbank rate to buy or sell a currency. This is where the question of "How Can I Withdraw and Keep My Payments in USD?" comes in.
How to Transfer USD Out of Upwork
The good news is I've found an easy way to store your USD, and even convert to PHP all online! But first, I'll show you the wrong ways to do it, so you can avoid these rookie mistakes.
So now let's see other local alternatives to solve this issue:
Paypal

Paypal

is the most obvious way to get your

Upwork payouts in USD, but

think

twice

.

Paypal deducts fees for every transaction. First, a fee will be deducted from Upwork to Paypal, then Paypal will deduct another fee to transfer it to your bank.

Additionally,

considering Paypal's low currency exchange rate, I think it's only good for online shopping which I try my best not to. And oh, do I have to mention it takes 3-4 days to receive your money withdrawals in your local bank account? So on to the next.

US Dollars Savings Account offered by Local Banks in the Philippines

Unfortunately, this doesn't currently work. The only way you can set up your local Dollars Savings account to Upwork is through its "Local Bank Transfer" method. All accounts linked to a local bank transfer method will be transferred to the local currency. Upwork's system will think that it's a local bank, therefore will send it in PHP, eventually leading to an unprocessed payment. Read it from here.


You can later read the public Upwork forum here to better understand their payment methods. Thanks to Upwork's responsive moderators.

Best Bank to Earn Your USD
So my holy grail is WISE! Formerly called Transferwise, Wise is an online banking platform similar to Paypal. The only difference is that they allow you to hold different currencies, essentially having your own bank account details in every country. Travelers and freelancers finally have the liberty to receive US dollars and other currencies such as euros, Australian dollars, Singapore dollars, and many more! It's super easy and free to register. You can link your Philippine local bank account so you can enjoy direct payments with better conversion rates.
To give you an idea of Wise conversation rate, I created a quick exchange rate comparison below:
Source
1 USD to PHP Currency Exchange Rate
Overall Transfer Fee
Net Pay for $100 USD
Upwork
46.00
1.00 USD
4,554 PHP
Paypal
46.32
50 PHP
(for transfers under 7,000 Php)
4,582 PHP
Wise
48.41
2.15 USD
4,738 PHP
Google
48.41
–
–
(Salary in USD – Transfer Fee) x Exchange Rate = Net Pay
The higher the exchange rate, the more pesos you can get per dollar! Let's say you earn $100 USD and you withdrawn it directly from Wise, your take-home pay can be Php 4,738 as opposed to Php 4,554 if you processed it on Upwork. The difference adds up every time you withdraw. You spent time working for this job, so every penny is worth it.
Imagine receiving US dollars for a job you worked so hard to earn. It is more satisfying! For an average Filipino citizen who doesn't have the privilege of using US banks, holding different currencies in your own bank account is liberating.
How To Withdraw USD from Upwork
Setting up Wise to Upwork is super easy! I was truly excited to discover it. Once you register with Wise, you can now create your US Dollars bank account details. Then you can link your US Dollars bank account to the payment method of your Upwork profile.
Guide on how to link your USD bank account to Upwork:
Log in to your Upwork profile > click "Settings" > click "Get Paid"
Click "Add Method" from the "Payment Details" section
When a prompt appears, choose "Direct to U.S. Bank (USD)" and click "Set Up"
Get your US Bank Account Details from your Wise Account and Fill in the details as required
When you're done, click "Add Account". This payment method will become active in 3 days.
Upwork will deposit 2 small amounts, which may take 2-3 business days to show up on your Wise account. You'll need to confirm the 2 amounts to verify your bank account. After this process, you are now all set to receive your payouts!
---
Bliss Pointers
Setting up your Wise US Dollars Bank account is so easy. Bookmark this detailed blog post for a step-by-step guide on how to open a new currency account.
---
How To Receive Money in Other Currency
As you build your brand you can keep more of your earnings by writing your own direct contracts from clients you meet outside of freelancing platforms. It's even possible to collect payment from international clients on your own. The best thing about WISE is its borderless accounts, allowing you to open different bank accounts in every country. You are now truly international! Imagine the hassle-free transaction when you have direct contracts with a client from a certain country. Instead of giving them your Paypal account, which charges them an additional transaction fee, you can just give your Wise bank details in their country and they can use their free local bank transfer.
By doing this, you can solve four common freelancing money issues:
Upwork takes up to 20% of your earnings.
Clients out of Upwork who don't pay on time. Your clients can now schedule payouts from their bank app.
Low-negotiating power on freelancing platforms.
International wire-transfers and restrictions.
Because of Wise you can confidently build your own consultancy portfolio outside of freelancing platforms, meaning you can charge more. This opens up an opportunity for a bigger ROI for you in the future!
It's so much wiser to use Wise! They charge as little as possible, and they always show you upfront. No hidden fees. No bad exchange rates. No surprises. That's why I have a more in-depth blog post on how to utilize it and why it's better than any other bank!
---
The Bliss Point
The best time to take action is NOW. What I recommend is for you to start sending your application to Upwork so you can familiarize yourself with the platform and start working on your personal freelancer roadmap.
They say working remotely is not for everyone, that's only because not everyone is willing to take accountability for themselves and learn things on their own! Don't let this stop you, use this as fuel to get motivated and prove them all wrong.
Did you know that Wise offers a referral program? For every 3 people you get to invite and made their first transfer, you can earn Php 3200! Another income opportunity just like that! We are blisspointing our future here. So go ahead spread the word and sign up now!
---
Aha! You got wiser 🙂 If you were happy with what you learned and we hit your blisspoint like no other, we would really appreciate if you buy us a cup of tea! We thank you in advance and we promise to give you more blisspoint hacks in the future!